The Packing List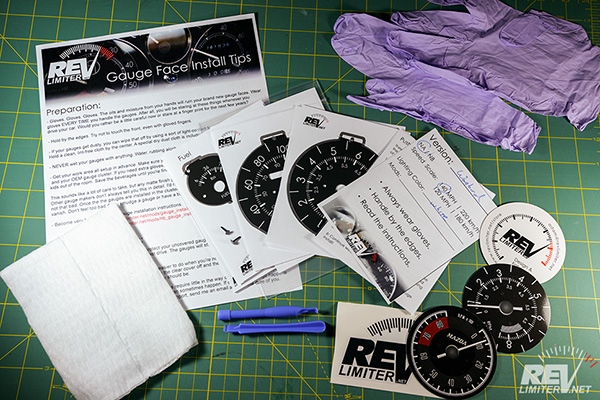 What You Get:
One (1) set of genuine revlimiter Gauge faces.
Bulb condoms or LEDs

 

if ordered.
Pair of no-glue, push-through needle stoppers.
Pry tools to remove OEM gauge needles.
A dry dust cloth.
Pair of gloves.
One-sheet installation guidelines.
Stickers and other goodies.
What You Do NOT Get:
A full cluster. This is a set of gauge faces only.
Gauge needles. You will have to re-use your stock needles/pointers.
Please Note:
While I try my hardest to photograph each gauge correctly, I can't guarantee that your computer monitor is accurately showing the actual color of each gauge. Reds and purples are particularly hard to photograph and have the added problem of becoming richer or thinner depending on the light hitting them.
Be aware that there may be some color differences between what you see on the screen and what your installed gauges look like.

Mini-FAQ
Q: I don't understand the lighting. Explain it?
A: Lighting colors on the NA and NB can be done in three ways - with a colored bulb cover (condom), with an LED, or with the color baked into the gauge. For example, if you order your gauges with amber baked-in lighting, the gauges will always light up amber no matter what bulb you install. But if you order the gauges with white/clear lighting, you can change the night color any time you want with a simple bulb change. White/clear lets the native bulb color shine through without any tint. 
Q: What's the deal with the different zero rotation?

A: Miata gauges have 2 things going for them - they're round and they're very simple. There are no computers telling the gauge where the zero point needs to be. That means that you can set the needle wherever your new face places the zero and the gauge will not have any idea that anything is wrong. 
Q: What is Gen3?

 



A: My 3rd Generation revlimiter Gauges are made in a completely different way than the thousands of Gen2 and Gen2.5 gauges made between 2012 and 2017 (or the handful of Gen1 gauges made in 2011). Gen3 gauges are laser cut from aerospace polymer and digitally screen printed to create a dial face that exceeds OEM quality. Using spot color printing, Gen3 gauges feature extremely vivid red zones and translucent black warning lights. And digital screen printing means small changes to the artwork can be done on a special-order basis instead of being locked into an existing physical silkscreen that can't be easily changed. I'm confident when I say these are the best gauges being produced in the world today. 
Q: What do I do about my airbag and other dummy lights? I need them for yearly inspection.

 



A: While most of my gauge designs eliminate the dummy lights at the bottom of the tach, I make a 
Center Indicator Panel
 that restores them in place of two unused factory lights. I can also make custom versions of any design that would rotate the zero back to the stock location and allow room for the factory airbag and headlight motor lights.
Q: Can I order these for my Civic/BMW/Suburban???
A: Soon. Revlimiter working on expanding to more non-Miatas every day! 

About the Ordering Process
Every item in this store is hand-crafted, made one set at a time. Everything is made to your specs. There's no mass production. Because of this, there might be a short delay between placing your order and shipping. Gauges usually take a couple days to make. If there's a long wait list, I'll contact you via email to inform you of any delays.